8x World Muay Thai Champion
Raised in his homeland of Leeds, Liam Harrison began training in Muay Thai at the age of 13. He made his amateur debut at the age of 14, winning a no-head contact fight. He started his professional career just before his fifteenth birthday. 
Liam was born on the fifth of October, 1985 in Leeds. He started Muay Thai when he was 13 at the famous Bad Company Gym, taught by the glorious Richard Smith, where his natural abilities quickly became visible. 
Between 2000 and 2004, Liam became the complete fighter in the United Kingdom in his weight category, eventually moving from a weight of 52 kg/114.4 lbs. to a weight of 63.5 kg (139.7 lbs.) and winning both national and international competition.
Winning his first fight by knockout and submitting 29 wins in the first 29 fights, he worked hard to earn himself the nickname Liam 'Hitman' Harrison. 
Liam Harrison chooses Alphabolix wholefood vitamins, ensuring that he is at his top performance in every match. Liam puts his life on the line every time he enters that ring. Athletes like Liam know that its kill or be killed, taking on proper nutrition is an important part.
"There are so many disciplines to master, and the lifespan of a fighter is small. He/she must make the most out of their opportunities. They need a proper diet and the use of supplements helps to achieve the desired result. Muay Thai fighters like Liam Harrison are taking quality supplements for a variety of good reasons."
Liam Chooses Alphabolix Supplements
"I would fight anyone but probably a rematch with Rodlek would be good. He's now 3-0, so maybe a rematch there and then the winner gets a title shot." – Harrison
Liam Harrison is recognized to be one of the most combative and aggressive Muay Thai fighters in the UK. He was also known for his strong left hook and deadly low kicks. At the age of 19, he won his first World Title (Now securing 8 world titles, 87 wins, and a record of 115 fights). Liam has ranked number 1 in the UK rankings since the age of 17 and is commonly considered as the greatest Muay Thai fighter to ever come out of the UK.
Liam has fought all across the world – Japan, America, Jamaica, Italy, Cambodia, France, and in particular, Thailand, where he lived for 2 years, fighting 30 times and in both major stadiums. Liam fought all top Thai and European fighters, including three close, tough fights with Rodlek Saenchai.
Not only great fighter, Liam has also proven himself to be an outstanding coach. He is truly capable of transmitting his expertise in the ring to newbies and fighters of all levels.
With more than 12 years of coaching experience, Liam now has become one of the most in-demand coaches in the world, traveling all over Europe and America. Not all fighters become good coaches, but it's something Liam has exceeded beyond expectation.
Liam "the hitman" Harrison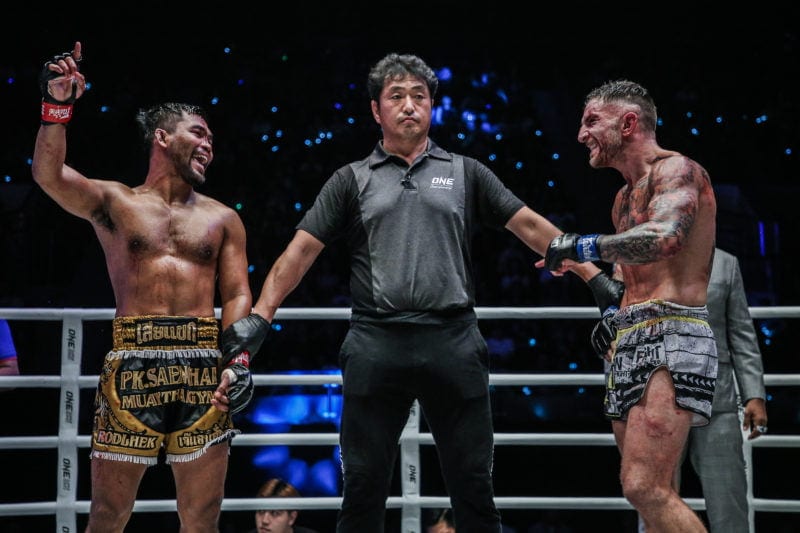 "I still have a lot of goals,
I love fighting more than anything – nothing is like it.
These days, I take much better care of my body.