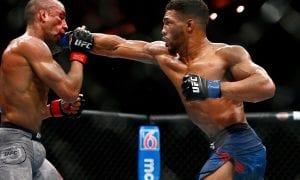 Jim Miller VS Charles Oliveira
The main card opens with UFC veteran Jim Miller facing Charles Oliveira. While Oliveira is newer to the lightweight division, both have plenty of experience in the UFC. Jim Miller has gone 1-4 in his last 5 fights, while Charles Oliveira managed to go 3-2 in his last 5. Both have fought top opponents in the past, and with a history of wild fights Jim miller vs Charles Oliveira should be an outstanding opener for the main card. My prediction for this fight is Miller winning via TKO. While Oliveira has the potential to put Miller away, Miller has been facing higher level opponents at a higher weight class for some time. His aggressive offense and pace will offer a major challenge for Oliveira.
Rob Font VS Sergio Pettis
The second fight on the main card is Rob Font vs Sergio Pettis. Font is a local fighter hailing from Massachusetts. Sergio is a former flyweight competitor making the move up to 135. While Sergio certainly has displayed outstanding skill in his career, he has struggled to come up with a major breakout fight to make him stand out. While both fighters are incredibly skilled, my prediction is Rob Font via TKO. Pettis has consistently shown outstanding skill and composure in the octagon, but seems to lack a strong killer instinct, and the ability to dig in and go. Rob Font has also shown excellent skill and composure in the octagon, but has finished the majority of his fights. When you have two calm, skilled athletes, the ability to recognize your opportunity to finish a fight and dig in can make a world of difference.
Edson Barboza VS Dan Hooker
The third fight on the main card is Edson Barboza vs Dan Hooker. Barboza is know for his kicks, with a highlight real wheel kick, and 3 finishes via leg kicks on his record. Dan Hooker is still building his name in the UFC, but already brings with him a number of varied and exciting finishes in the UFC. Despite what is likely a speed advantage for Edson Barboza, my pick for this fight is Dan Hooker by decision. Both have strong striking, however Barboza's defining weapon is his kicks. While they are devastating, the game plan to counter them is out. Simply pressure. He is not known as a counter puncher, and his kicks lose a lot of their effectiveness moving backwards. The first time we clearly saw this was in his fight against Khabib. I believe Dan Hooker has the style, and technique to keep Barboza moving backwards, and come out with a decision victory.
Kevin Lee VS Al Iaquinta
The main event is Kevin Lee vs Al Iaquinta. This fight is a rematch. Iaquinta already holds a decision win over Lee. Al most recently shocked many with his decision loss to current lightweight champ Khabib Nurmagomedov. While he didn't get the win, Al did make the seemingly invincible Khabib look human in a matchup that showed he is deserving of a top spot in the 155 rankings. Lee's last loss was to former interim lightweight champion Tony Ferguson. However his comeback win was an absolute mauling of Edson Barboza that made current champ Khabib's mauling of Barboza look relatively mild. This cemented Lee as a top ranked lightweight. My prediction for this fight is Lee by decision. While Iaquinta has excellent striking and wrestling, I feel that Lee edges him in both. I don't however see that gap being so large that Lee can find a finish.
Be sure to keep up to date with our alphabolix blog for future fight predictions, fashion trends, diet tips, and general lifestyle advice.